---
A not so brief history of The Life Center of Hernando
**********************More Blessings January 2021
TLC is a shelter, but it is so much more. We believe people need more than a place to sleep at night. They need a place to call home. They need people in their lives that will guide them, help them and love them. They need opportunities for spiritual growth. We try to provide transortation so our families can attend church. Lately we have had more people to transport than we we could take. Faith Presbyterian solved that issue for us by providing their church van to transport our families, We are very blessed and very grateful. Thank you Faith Presbyterian.
**********************TLC Honors its all Volunteer Staff Dec. 2020
We love and appreciate our volunteers! In fact we could not exist without them! Since we are ALL volunteers, sometimes it is hard to know who should be celebrating whom, so we just got together and had fun. We enjoyed each other's company and some excellent treats. We just have to say it one more time: THANK YOU FOR ALL YOU DO!
**********************Let there be Light Oct. 2020
We were concerned about security issues. Then Josh Hady from DC Electrical came to the rescue He offered to install motion activated lights outside, What a blessing! But it gets better. Another benefactor offered to pay for all of the materials so there would be no cost to TLC. We are so blessed to have this community support. Our families will sleep better  knowing they are much safer now. A huge thanks to everyone involved on this project!
**********************Then there was COVID
The Life Center stopped operating at full capacity in March 2019. However, we did not sit bt idly. We made lemonade out of those lemons. We had one empty building and saw this as an opportunity to clean and upgrade. Volunteers pressure washed, put in a new kitchen counter, installed a new bathroom floor, painted every surface, fixed the A/C and about 50 other jobs. . A HUGE, HUGE thanks to everyone who worked so hard and made such a difference.
**********************.100+ Women care about TLC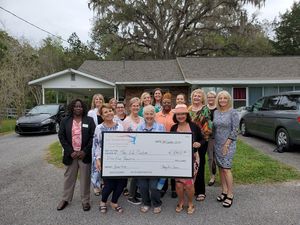 100+ Women Who Care Nature Coast is a group of local women who are a philanthropic force within Hernando County. They recently presented this big check to The Life Center of Hernando. TLC provides much needed services to young moms at risk of homelessness. We are very grateful. TLC was then eligible for 50% matching funds from the Richard M. Schulze Family Foundation family of Best Buy. A huge thanks to boht groups…
**********************17 families housed in 2019
 Because of the time and money  so generously donated by the community in 2019, The Life Center of Hernando was able to help 17 families.  Durning 2019 we had 24 children who lived at The Life Center and called it home.
They called TLC home for good reason. We not only provided housing, we were there to lovingly guide those families through all the necessary steps to bring them closer to independent living. We worked with them on finances, housekeeping, parenting skills, and organizational skills. We helped them get their children enrolled in daycare and then provided transportation to daycare everyday. TLC paid for birth certificates, dried tears and soothed tempers. We watched over the children like they were our own. We made sure they had books and blocks and dolls and hugs and a wholesome environment.
We encouraged the moms to finish their education, stay off drugs and budget their money. We stressed good nutrition and exercise and a good night's sleep. We offered solutions to difficulties and were generous with both hugs and prayers. In short, we were family.
TLC is a program and the moms who work the program truly do turn their lives around. They regain self worth. They become better people. They know the staff is not paid. They see us working tirelessly on their behalf- some times without thanks. There are some amazing success stories.
All of this is possible because of volunteers and donations. Without community help, TLC would not have been as successful.
……………………….Faith comes to TLC Oct. 2019
The Life Center depends on volunteer help for everything we do. That is one reason we were so happy Faith Evangelical Presbyterian Church was coming for a work day. The work crew arrive promptly at 9:30. After introductions, we formed a circle for pray then it was work, work, work for the next three hours. The volunteers cleared the underbrush from our wooded area and disposed of a whole lot of junk from previous years. Those woods now look a whole lot more inviting. Thanks to one and all for this great show of support and fellowship. It is a blessing to know so many people care about our community.
**********************New Roof  May of 2019
We had Lightning Hero money to spend.  We decided to spent $11,570 for a new roof on the main house and the adult education building. A new roof is a long term investment. It demonstrates our intent to continue offering services to young moms well into the future. Operating expenses and general maintenance are usually covered by local individuals and businesses. An item as expensive as a new roof just isn't in the budget unless a group like the Lightning Foundation comes along side and makes it possible. We are very pleased and very grateful for every donation of time or money. Our one regret is that we aren't helping more families in desperate need. Please do what you can.
**********************Cross Point Church Arrives May 2019
TLC is child-centered. We don't allow any behavior that is not wholesome for a preschooler. That means no drugs, no alcohol, no cussing, etc. We focus on wholesome activities. This includes our playground, which, sadly, was looking like a neglected inner city lot. Something needed to be done. Cross Point Church saw the need and came by recently to renovate our playground. They cleaned it up, reconfigured it, and added some much needed mulch and a new patch of grass. There were about 60 men, women, and children who did lots of other projects too. However, the playground is our favorite. We even have a new tire swing that is strong enough to hold a couple of moms. We LOVE it!!!!! Thank you, Cross Point!
**********************Spring 2019 The Road to Success
Here at TLC we realize we can't help someone who doesn't want to be helped. We can provide a bed for a homeless mom which will give her a place to live. Bettering herself long term is an entirely different thing.
We believe TLC staff is on the right track for helping a young mom get focused on what she needs to do to benefit most from her stay at TLC. One thing we do is to award certificates for completion of the various goals in our program. These are called Success Markers. Some topics include parenting, housekeeping and finances.
One new resident has shown a great deal of initiative and maturity. We were so happy to see her complete her first two Success Markers. She is a shining example of how to work the program to benefit her family. She is an amazing mom.
We love the progress all of our moms are making. We are praying each our moms works the program to the best of her ability. Setting achievable goals and receiving a small token of recognition paves the way for future success.
**********************Florida Winter 2019
What does February in Hernando County look like? There is no snow to play in, but there is sand and water. There are no snowsuits, but swim suits. The truth is, we just got the wading pool stored away for the winter when we had to dig it right back out again. We aren't complaining! The kids at TLC are loving their outdoor time.
**********************Valentines Day 2019
Valentines Day is a great holiday to spend with your special someone. It is all about flowers and chocolates and feeling loved. What a great feeling! But if you don't feel loved or special and there is no one to bring you flowers and chocolate, it can be a very lonely day.
Two very kind women from Grace World Outreach Church understand how a young woman might feel. They stepped up to let each resident at The Life Center know she is loved and appreciated. They brought gifts and they gave the most generous gift of all–they gave their time to sit and visit and let each young lady know how special she is. That love is already changing lives!
**********************Happy New Year 2019
Kids and play dough seem to go together. One day last week, one of our moms at TLC rounded up these four little ones for some fun.
As fast as we can, we help our moms enroll their little ones in daycare and Head Start so mom can go back to school or become employed. After school and on weekends, the little ones appreciate the extra attention.
**********************Community Baptist Church Christmas visit Dec. 2018
It is hard to say who was the most blessed when Pastor Doug and his wife Vickie from Community Baptist Church stopped by for their first visit. They had heard Santa was making an appearance and wanted to join the fun. Ms. Vickie used to have a daycare and she loves children. One shy little girl doesn't go to just anybody, but she would not leave them alone! She knew they were her new BFFs!
We believe the Pastor was impressed with what is happening at TLC.
**********************Christmas Dec. 2018
Is a day at the spa too good for a woman who is living in a shelter? Of course not! Just because a young woman is experiencing serious cash flow as she struggles to raise her child, does not mean she can't appreciate some pampering. In fact a young mom living in a shelter probably needs a day at the spa more than her more affluent sisters! Spa Abstract seems to understand this! They offered a spa day just for the residents of TLC. It was all the more appreciated because it was such a new and exciting experience for them. Our residents will never forget this experience and the generosity of Spa Abstract.
**********************Dec. 2018 Learning Life
Some people love learning, others not so much. At TLC, our residents participate in Life Skill classes. After all, a great deal of skill is needed to successfully manage one's own home. Angela is the volunteer who co-ordinates our Life Skill classes. She brings in members of the community to teach CPR, finances, cooking, and just about every other skill our single moms might need. These pictures were taken during class last week in our new adult classroom. As you can see, it's not all drudgery! Tracy, in the Santa hat, was facilitating that particular class.
The tree is a work in progress. It will eventually include the names of everyone who has ever lived at TLC. So far, that is more than 50 families.
**********************Nov. 27,2018The Lightning honored Barbara Lemoine as the 14th Community Hero this season
by Press Release / TampaBayLightning.com
TAMPA BAY – The Tampa Bay Lightning honored Barbara Lemoine as the 14th Lightning Community Hero this season during the first period of tonight's game versus the Anaheim Ducks. Lemoine, who received a $50,000 donation from the Lightning Foundation and the Lightning Community Heroes program, will donate the money to The Life Center, Pay It Forward Farm, Joseph House Brooksville and the Seventh Mom Project.
In 2002, Barbara began outlining her vision to offer homeless mothers a home where they could develop the skills to become better parents and responsible citizens. She then turned neglected buildings into much needed housing and founded The Life Center/TLC, a grassroots mentoring program for homeless moms that teaches them Life Skills and helps them develop independence.
**********************Oct. 2018 Our Adult Classroom is ready
Our new adult classroom is now operational. Every week we hold Life Skill classes there for the moms in our program. Angela does a great job of inviting members of the community in to teach about finances, CPR, housing opportunities and job readiness skills. The finishing touches still need to be completed, but we couldn't wait to begin using this space. A huge thanks to everyone who contributed to this project. Years ago the building housed a honey business. In honor of that history we named it the BEE Hive. BEE stands for Becoming Educated and Empowered. This building houses a Hive of activity!
Oct. 2018 **********************Fun and Games at TLC
Why does TLC need so many volunteers? Well, we have no paid staff, so without volunteers we would have no program. Also, TLC brings in outside facilitators for our Life Skill classes. These classes are held in our newly renovated classroom. Meanwhile, babies and toddlers need attention. Enter childcare workers. Sometimes we only have two workers, but last week we had four (Crystal, Traci, Cynthia and Sherry). Read this eye witness account by Crystal:
"It was a wonderful evening, one of the best we have ever had. We utilized the whole house because the moms were in the classroom. I read two books to two little girls at the kitchen table while they ate raisins. I shared my special dragon story that I've told each of my children many times. Sherry read to two of the little boys and played with them in the dining room. Traci held and rocked the baby in the playroom and Cynthia entertained the others with a (visiting) 9-year-old helper.
They all colored together, and the best part was when Traci turned on the music. It helped that there were four of us, and the children had so much fun!!!
**********************Tea at TLC in the fall of 2018
Just because a woman is in a shelter doesn't mean she is any less of a person. She still wants to have nice smelling soaps and take a few minutes to remember she is loved and valued because "God don't make no junk". A very kind volunteer hosted a tea party at TLC last week. It send the message: you are loved, you have value, you deserve to drink tea from a pretty cup and remember how much God loves you.
**********************Oct. 2018 Just Another Day at TLC
What is it like volunteering at TLC? Here is an eye witness account  by volunteer staff member Alicia. It has been edited/shortened to protect the innocent.
"I drive the TLC van and was running a few minutes late that morning. Everyone was ready to go when I got there. Then we went to the Oak Hill Medical Center to get one child's paperwork. While we were waiting, we talked about the fact that one mom was having trouble getting in to see a doctor. We went back to the house, where another mom and her baby joined us for the ride to Care One. Fortunately, the doctor there helped.
While that mom was seeing the doctor, the rest of us used the time to shop – getting the best deals at places like Aldi's and Wasabi Market. We walked around the plaza while waiting and the baby was really good. He was enjoying being out and about. We finished up, then made a stop at Publix to get things for cooking class. Finally, home to TLC to drop off goods.
Daycare pickup was easy. The prescriptions at Walmart were ready for pick up. One mom and I continued on to the daycare to pick up the little ones, then back to Walmart. We headed to TLC feeling like we had accomplished some good things.
On returning, I met the housekeeping supervisor, Sharon. She was very pleasant and was there to check the condition of the house and the moms' rooms. She wasn't there very long and soon cooking class was underway. Another volunteer, Sydney, had been prepping food for cooking class by chopping so that made things easier. Earlier, one mom had made a nice roast and potatoes for her crew, knowing that they would be hungry when they got home from daycare. It looked and smelled really good and the kids enjoyed it.
During class, I showed the moms how one rotisserie chicken and a few other things could feed a whole crowd of people. Everyone at one point or another was in the kitchen and sometimes it got crowded. Syd and I brought some homemade yellow rice and some black beans to round out dinner. Everyone, including the kids, had something to eat, and it was nice to all sit down together. I was happy to see even our super pregnant mom out of her room and eating dinner with us. We enjoy Monday night cooking class. (Class is made possible through the generosity of Publix)
During class, student volunteers played with the toddlers to keep them entertained. Everyone was having a good time.
After dinner, there was a house meeting. Sydney facilitated the class regarding the SIDs initiative. She passed out the cribs and paperwork provided by the Health Department. The best part was watching our very clever four year old READ the questions for Sydney. He is so smart. (He deserves more help than he is getting). The House Manager, Crystal, did dishes and helped clean up. One mom took the trash out and I finished wiping things off in the kitchen. We left a little later than usual at 9:00, but it was a productive day.
**********************Sept. 2018 Faith Evangelical Presbyterian Church Helps
A group of volunteers from Faith Evangelical Presbyterian Church came Saturday morning, Sept. 15, to tackle various projects: window film, drainage, painting the new classroom ceiling, checking electrical outlets in the kitchen, and switching the Hot and Cold faucet supply lines. Our property is looking better and better.
There were over a dozen people that morning and every one of us was busy, busy, busy. In fact, too busy to even take pictures. Sorry. You will just have to imagine, a hole full of dirt, a white ceiling or windows with see-through film or maybe how the hot and cold pipes look exactly like the cold and hot pipes did. Not much to see after all, but we are very grateful all that work got done!
**********************Sept. 2018  Housekeeping on a Good Day
Sometimes in the past our TLC volunteers have had to contend with poor housekeeping. Not so last week. A new volunteer was amazed at how the house looked at 8 am!
She had this to say, "The carport looks great. Someone has done a lot of work out there and it shows. The house was spotless and smelled so nice.
 **********************Summer 2018 One of our Babies.
This little sweetie is enjoying time at the TLC sensory table. We are in the process of relocating some of the play equipment and were not quit set up yet, but she couldn't wait. She is busy at work mixing sand and sawdust. She was born while mom was living at The Life Center.
Aug. 2018 **********************Where Does the Money Come from?
The First United Methodist Church on Spring Hill Drive has chosen The Life Center of Hernando for it's "Mission of the Month".
The church has already contributed to TLC's success with volunteers and financial support. Now they want to do more. The entire month of August will feature TLC and the work we do to bring homeless mothers and babies off the streets and into shelter where we prepare them to return back to our community as productive, independent citizens.
We think UM would agree with these well known words, "When you did it for one of the least of these, you did it for me."
**********************Summer Fun 2018
What can you do with a bunch of toddlers on a hot afternoon? Just turn on the hose. They figure it out from there. Kids at TLC don't seem to mind sharing a home with so many friends.
**********************New Arrival: An Open letter to baby M.,
Welcome, precious baby girl! You are the tenth baby to be born while mom was living at TLC. We are so glad you had a safe, clean home to come to when you left the hospital. We all pledge to watch over you so you can enjoy safe sleep; clean, dry clothing, and lots of love.
In the past 5 ½ years since opening, TLC has housed 52 families. You are child #70 to live at TLC.
We invite you to stay at TLC with your mom until she is ready to live independently again. It won't be easy for her. Moms need schooling, employment, transportation, and you will need child care.
May God bless you and your family!
**********************June 2018 Birthday Bash
A recent birthday bash at TLC. A very special little boy turned 4 making it a day we wanted to celebrate. Our staff of volunteers had to really scramble to make this party happen. We are short handed right now with a full house so everyone is super busy.
TLC provides shelter, but we want to do more. We love our residents and we want to show that love. We bring necessities to their lives, but we want to bring joy as well.
**********************Easter 2018
Judy teaches a weekly cooking class at TLC. Last week was very special. It was a first time ever for both moms and kids to cut out and bake Easter cookies, make the frosting, and decorate. Great fun and enjoyed by all.Our TLC driver did an early daycare pick up so our preschoolers wouldn't miss all the fun. As soon as the kids got home, they joined their mothers and started right in frosting and decorating the cookies.Judy reported it was very special to see the interactions. Building stronger families and lifetime memories.
About this time Dana arrived. she brought a Happy, Happy Easter from Tone U in Weeki Wachee to the kids at TLC. When Dana asked if she could do something to help, we didn't expect such generosity! Wow! Lots of happy kids and grateful moms. This is the sort of action that says to residents, "There are lots of good people in this community and we love you." Thank you Tone U for your generous giving throughout the year. You make everyone's day brighter.
**********************Spring cleaning 2018
The recent warm weather inspired an early spring cleaning at TLC. We thought you might like to see some of the results. The kids at TLC use the playroom so it is not always so neat and tidy. Seeing it like this is a rare treat! The whole house is getting a clean sweep.
**********************Spring Babies at TLC
The volunteer staff at TLC is always busy, busy, busy–but never too busy to hold a cutie like this. This little darling really made Jan's day!
She is expected any day now! Maybe even today or tomorrow. Who? The newest member of the TLC family. We are all very excited, especially her big sister. In honor of her soon coming arrival, we held a baby shower on Tuesday. Residents past and present, volunteer staff and mommy-to-be enjoyed chocolate-covered strawberries and some fabulous chicken dip. Decorations, gifts, and eight kids made for a fun time. The oldest child in attendance was three, which means there were several unauthorized tastes of frosting. Hurry and get here, baby girl, so we can adore you!
**********************TLC is 5 years old! Feb. 2018
Happy Birthday to us! TLC has now been open 5 years. The Life Center has really grown up in the 5 years since we opened. Initially we had room for a house mom and 2 residents with a lease that would expire in three years. Just getting that far was a MAJOR, MAJOR accomplishment. Who remembers? Kit? Angela? Tracy? Barbara?
We were all newbies who didn't even know how to advise our residents to apply for food stamps (SNAP). Soon we were gifted a trailer and, after much labor, with no A/C one very hot summer, we ended up with 3 more bedrooms and a playground.
Just in the nick of time, as our first lease was expiring, we were able to put a down payment on our new permanent home. Who remembers all the clean-up there? The house, the attic, the storage building and the burn pile were all huge messes. Soon after, TLC got our first vehicle and for the past two years we have been able to provide transportation for our residents
Thank you one and all for your support. By helping to establish TLC, you have helped Hernando County's most vulnerable citizens- homeless young moms and their babies.
**********************  Feb.  2018 Preparing for our New Classroom.
TLC has a new volunteer. Vilmarie seems to be willing to help out wherever and whenever she is needed. She is working in leadership, as hands-on staff and, judging by the picture, maintenance as well. She and her husband Frank put up plywood to keep our toddlers from falling down a concrete drop off. That would have made a big BOO BOO! Thanks, Vilmarie and Frank
**********************Fund Raising Feb. 2018
We love community support, but we also feel that we should try to earn our own keep whenever we can. We have been blessed with a super abundance of baby items – more than we can ever use. We are preparing to take some of that excess and sell it at Happy Happy Hippo Consignment Sale later this month. We only sell clean, usable items and we sell at ridiculously low prices, hoping to offset our expenses and at the same time bless other young families. It is a lot of work. Check out the picture to see how we have been spending our time! Where are our precious babies while we are all working? Why, right there with us! We put items in the box and they take the items out!! Anyone know about this sort of help?
**********************Moving into  2018
Try to imagine what it must be like to be a young single parent who is expected to know how to run a household and parent by herself while still finishing up school or working enough hours to pay for the essentials. There is so much to learn so TLC holds essential life skill classes for our residents on a weekly basis.
We found we absolutely must have child care workers if anyone was going to get anything out of the classes. Up stepped Cynthia (far right) and Evelyn (far left) . They are at TLC faithfully week after week to care for our little ones who never stop begging for attention even at picture time. This seemingly "small" contribution is actually a huge blessing as these volunteers pour out love on the babies.
********************** 2017 Christmas
These are the Christmas gifts provided by women from Grace World Church who wanted to bless our families.. They also  blessed the house with the all important essentials of toilet paper and cleaning supplies. Those gifts will continue to be very much appreciated long into the new year. Thank you, ladies for both the pretty bags of individual goodies and the practical gifts.
********************** 2017 Thanksgiving
Dinner at TLC was a huge success. The House Manager reported, "I am so pleased to say that the residents and I cooked all day and they were happy to do it! We used the donated table cloth. We had a really nice day."
Thank you Tone U Weeki Wachee for providing the turkey and all the fixings. It was a day to remember and be thankful.
**********************Summer 2017
TLC survived Irma!
The 4th annual TLC Banquet was a huge success! Grace World Outreach Church provided the facilities.  About 140 people enjoyed a buffet dinner.
100+ Women WhoCare Nature Coast awarded TLC this money.
Epsilon Epsilon Chapter of Beta Sigma Phi Sorority also blessed TLC financially.
***********************Spring 2017
About 65 volunteers from Keller Williams showed up recently for their Red Day
*
On 4/18/17 the Beta Sigma Phi Sorority held their Founder's Day Banquet. This year they were able to raise $1,000 for The Life Center of Hernando.
Crosspoint Church came to TLC March 25, 2017 to clean up and paint.
++++++++++++++++Winter 2016
Tone U Gym brought Christmas to TLC this year.
Christmas came early to TLC this year when Lowes delivered new appliances.
++++++++++++++++Fall 2016
Cloverleaf presented a whole stage full of hygiene items and a cash donation.
TLC has been open 3 ½ years .
We have housed 29 families which included 28 kids and 12 pregnant women.
> Our preschoolers have a fenced playground.
> We have support staff on site almost daily
> Our well has a new tank
> Our roof is not in danger of being crushed by a falling branch
> Our A/C works
> We participate in community events and do invitational speaking
> All of our moms stay busy in school, working or enrolled
> Four Moms have been reunited with their children following DCF involvement
> Our moms completed a CPR and Infant First Aide as well as hurricane preparedness
> We have a van and a driver
> We offer Life Skill classes several times a week
> We created a boutique where residents can purchase items using TLC dollars they have earned.
> Residents are involved in community service (giving back)

THANK YOU HERNANDO COUNTY!
***********************Summer 2016
Did you ever wonder how TLC is funded? Here is one way. Larry from Vanscarsandtrucks tells the story:
I knew we had a good seed of an idea with the July 4 Hot Dog/Drink fundraiser. We needed a worthy organization to be the recipient. TLC fulfilled that role in spades.
********************Spring 2016
This spring the residents at TLC requested a CPR class. On Thursday, March 10TH  Dan Santana from the Hernando County Sheriff's Office came to TLC to facilitate that class.
************************Winter 2015
Evangeline Reid as the new TLC Chairman of the Board.
One Sunday in November we were blessed to attend a baby shower hosted by 2 residents for a third resident who is due 12/1/15
Exciting news when Larry Van Fossen announced he would soon be able to deliver a van to TLC. Our residents will have wheels!
About 20 volunteers from Sun Coast Credit Union came to TLC on Saturday to help us expand our efforts in the community.
**************************Fall 2015
Kit Raymond and Ken Santuchi celebrate the completion of the new floor project in our second building.
TLC  dedicated the property on Corliss "To the glory of God and the memory of Ed Finertie".  A dedication ceremony on Tuesday, Aug 18 honored Ed.
*************************Summer 2015
Patti Stepbach was awarded the Tampa Bay Lightning Community Hero Award for her backpack project, Operation Heartfelt. Patti was awarded $50,000 to share with her favorite charities. She chose The Arc Nature Coast and TLC.
***************************Spring 2015
Vineyard Church send over volunteers to minister to the residents, repair the floors and check the A/C heating unit. http://vineyardchristianchurch.info/
***************************Winter 2014
Chick in the Wind provided a second annual Christmas party for the children at TLC.
TLC collected, paired,  banded, and bagged over 2500 pairs of old shoes for a fund raiser. First United Methodist Church lent their awesome support.
TLC began it new Legacy Society while continuing to accept monthly pledges and one time gifts.
***************************Fall 2014
Ruth Mendez became TLC's newest housemother.
The Hernando County Board of Commissioners recommended TLC for a $5,000 reimbursement grant for educational materials for both adult and toddler residents. A good samaritan fronted the money so TLC could utilize the grant money.
People Helping People began working with TLC to help meet the nutritional needs for our residents.
TLC did some remodeling to create three individual bedrooms in our newly acquired building.
*************************************Summer 2014
Robin Cook becomes a TLC board member.
*************************************May 2014
Liz Lemoine was honored as Volunteer of the Month for her creative painting at the Learning Center
*************************************April 2014
*************************************March 2014
Happy Birthday TLC. One year old this month.
The past year 3 babies were born while their moms were living  at TLC.
In 2013 we had 88 moms who requested help.
In 2013 TLC provided 84 weeks of shelter to seven families for a value of approximately $8,400.
In 2013 we had over 40 volunteers helping make TLC a success.
In 2013 in-kind donations were valued at over $23,000.
In 2013 We had $2,881 in cash donations.
In 2013 we had one monthly pledge of $10.
Lots of folks have been helping:
The Hernando Chamber of Commerce included TLC in the diaper drive.
People Helping People donated a washer and Dryer
************************************* Feb. 2014
TLC now has a Twitter account thanks to our lead resident.
TLC is currently upgrading the policy and procedure manual.
Board members took training to become ACCESS partners to be able to assist residents applying for benefits.
************** Jan. 2014
Our motto for 2014 is "Excellence before Expansion."
The year began with terrible news. Friend and landlord Ed Finertie has passed away.
TLC received our first grant. Am Scot provided $250 for learning center upgrades.
*************** Dec. 2013
Christmas party sponsored by Chicks in the Wind. Lots of gifts for TLC kids.
TLC amended our mission statement to include a wider base of services.
Lots of folks have contributed to the success of TLC
Turning Point Church took up a Christmas offering in support of TLC's ministry.
Teresa Watson from Hernando antidrug Coalition provided test kits and safe medication storage containers
Baby Love provided diapers, wipes and hygiene items.
Many, many others who taught Life Skill classes, wrote articles for publication, volunteered for the board, knitted baby blankets and painted.
**************** Nov. 2013
Pam Pollock became a new board member and TLC treasurer.
11/12/13 Chamber of Commerce sponsored ribbon cutting for the new learning center. 11/5/13
**************** Oct. 2013
Michelle Hilton became the liaison between Turning Point Church.
Christy Plans organized a baby shower for all 3 residents. Lots of gifts and a diaper cake.
***************** September 2013
Kit Raymond became a board member and off-site house mother. 9/21
The residents participated in producing a video on their experiences at TLC.
****************** August 2013
Robin Gatton in her new role as Donations Director was chosen as volunteer of the month following a successful
Happy Happy Hippos sale.
TLC was selected by Lowes  to be their community project for the year. They will install a new chain link fence around the learning center playground.
******************* June 2013
TLC's name has been appearing in the newspapers lately.
TLC has joined an HYI  Grant Collaboration Group.
******************* May 2013
Ed Finertie began his generous support on the second building.
The power point and slide deck have been updated for use at speaking engagements.
******************* April 2013
Internet service was added to Little House. Printed newsletters are distributed throughout Hernando county.
******************** March 2013
TLC gets a new logo and more professional looking brochures.
Angela Welsh became a TLC board member and holds the office of secretary.
TLC participated in Belk's fund raising charity event.
TLC's first resident and her children move into the Little House. Resident questioned, " Where else could I have gone if TLC was not here?" We are glad we are here.
******************* Feb. 2013
TLC now has our occupancy permit for the Little House
********************** Dec. 2012
Tim Lane continues work on the Little House. Beth Grey from Tampabay writes a news article.
************************************ October 2012
TLC announced it will hold its ribbon cutting/open house ceremony on 12/20/12. Don't miss the entry for Oct. 2002. Exactly 10 years ago we were told God would build us a house! It took us a long time to let Him. We finally got out of His way.
TLC once again participated in the Summit for Youth and Families at the Faith Evangelical Presbyterian Church in Brooksville. Angela Welch presented a power point for TLC and Phil Scarpelli hosted a breakout session. TLC wanted to engage our community in a dialog about positively impacting the lives of young mothers by harnessing the time, talent and resources of Hernando County. Some history on the origin of the Little House was presented and the participants were asked to help plan its future. The goal is to prevent vulnerable women from the cycle of dependency on the social welfare system.
************************************ June 2012
The Little House at Turning Point will be our new home. We have volunteers, in-kind donations and some cash for materials. We got lots of help from Gary Griffith, Scotto Plumbing, Senica Air and Habitat for Humanity. This project is called the most important new work in Hernando County.
************************************March 8, 2012
*************************************** Nov. 11, 2011
Pastor Joey Heidler is add to the board.
*************************************** October 2011
TLC participated in the
Fourth Annual Summit
for Youth and Families. It was a day of presentations and exchanges designed to tackle problems affecting young people including teen pregnancy.
*************************************** June 2011
A steering committee was self- formed and Angela Welch, Phil Scarpelli and several others joined the team. They were instrumental in moving the project forward.
Lynn Van Meter was welcomed to the board.
***************************************April 2011
TLC published its second newsletter. The first one appears to have been lost. Do  you have one?
*************************************** Jan. 18, 2011
 Through the efforts of Tracy Echols and Hernando Youth Initiative, TLC was able to give a short presentation to the Hernando County Legislative Delegation.
************************************** December, 2010
Joy to the world! The Lord is come: let earth receive her King! The sounds of music were in the air. Or as one man put it, "You have brought music into my home." The occasion was The Life Center's annual Christmas caroling event. Started as a means of sharing Christmas cheer with house bound individuals, it has grown each year. This year there were approximately 18 carolers ranging from preschool age to retirement age. We car pooled from home to home bringing cheer to those folks who needed a little special seasonal joy. We brought music, cookies, and handmade cards. The cards were made especially for the event by a local first grade class. At one home, all the neighbors came over and joined in the fun. The group of carolers was made up of participants of both our cooking class and our divorce care for kids class. There were also board members, single moms with their children, friends, family and neighbors. After the caroling, this very diverse group traveled to our party location where we all filled up on Christmas treats and got better aquatinted. Mary Kay schenk expressed an interest in helping TLC and was told she would be considered for the volunteer position of future housemother.
***************************************** November 2010
What could be more traditional than pumpkin pie in November? On Nov. 23, 2010 The Life Center sponsored a pie making workshop. It was an evening of instruction and tasty treats. The teacher for the evening, Mary Kay Schenk, got everyone involved in rolling out the homemade pie crusts. Flour and rolling pins were flying as participants practiced the fine art of turning a lump of dough into a circular shape that fit the pie pan. Next three different fillings were prepared and added: mince meat, pumpkin and blue berries. Most of the participants had never tried mince meat before and were pleasantly surprised that it actually tasted good. One three year old guest said he liked "purple" food, but declined to taste the blue berry pie. The pumpkin was not from a can, but had been prepared ahead of time from a "real pumpkin" by our teacher. The cooking workshop continues to be very popular with the young ladies, their small children, and the older mentors.
***************************************** Oct. 2010
Financial workshop:
The Life Center kicked off its Financial Planning series on Oct. 14, 2010 at the
Palmwood Builders
model center in Spring Hill. Several young women attended and brought their moms to participate in the life skills workshop.
Suncoast Federal Credit Union
provided workbooks to guide the session, covering a range of relevant topics including goal-setting, credit, budgeting, and investing. Participants practiced identifying wants and needs while crafting "S.M.A.R.T" financial goals. Facilitator Phil Marina encourages interested young adults to decide what they want to gain from the series so that they may benefit to the maximum from each lesson. Christina, a single mom who attended with her mother, shared enthusiastically that the workshop and the high-quality home in which it was hosted inspired her with renewed motivation to succeed at her career goals for nursing. Many participants left armed with a better plan of how to reach their financial objectives to make a wise and solid path for themselves. Board member Teresa Glover remarked that even though she knew a good deal about basic financial principles, "I still gained some new insights and clarity for achieving success in my finances." Further workshops will continue the discussion of life skills for independence and financial responsibility. Our thanks to board member Teresa Glover for arranging for TLC to use these beautiful facilities.
***************************************** October, 2010
Life Center board members and volunteers gathered with young women from the community to enjoy a night of Latin cooking and strategize. Board member Silvia Vadell taught the group how to cook authentic Venezuelan "arepas"- corn meal patties stuffed with meat and vegetables. Savory aroma filled the kitchen as participants practiced basic cooking techniques and learned budget-savvy ways to prepare wholesome meals. Mandy, a local young single mom, worked side by side both learning and teaching other women to prepare "arroz con gandules," Spanish rice with pigeon peas. Participants built cross-generational relationships while laughing and savoring the fun of new skills and tastes. The cooking workshop created an atmosphere that fostered supportive mentoring relationships. When the corn patties were golden and the cooks were satisfied with their creations, everyone surrounded the dining table and shared mutual delight in the results of their culinary experience.
****************************************** October 2010
Board members Barbara Lemoine and Chantelle Kelly visited the Alpha House in Tampa. Their goal was to learn more about the Alpha House and take a tour of that residential facility for pregnant women. They know pregnant homeless women from Hernando County are often referred there since Hernando County does not have a residential facility of its own for these moms and infants.
New TLC flyers have now been printed.
****************************************** Aug. 2010
The final version of the logo was approved. It was agreed to order business cards.
Decided to redo website using YOLA.
Decided to begin life skill classes.
****************************************** July 2010
A Vehicle Donation program check for $2,882 brought our bank balance up to $4,087.
Website is  in dire need of update.
TLC has begun to attend
Hernando Youth Initiative
 meetings. TLC is now attending HYI subcommittee for teen pregnancy. TLC now understands the importance of obtaining a track record before applying for grants.
TLC continuing search for suitable building and the funds to afford it.
****************************************** April 2010
It was reported tot he TLC Board that all required annual TLC filings were done in a timely manner.
****************************************** Feb. 2010
Linda Sacca resigned as treasurer and turned over the financial records to Barbara Lemoine.
****************************************** Oct. 2009
Carolyn Timmons resigned from the board. Silvia Vadell was welcomed to the TLC Board.
Miguel Vadell presented a logo design for consideration.
Teresa Glover suggested a heightened emphasis on prayer for TLC.
****************************************** March 2009
 TLC worked with the students of Springfield College on a power point presentation/fund raiser for TLC.
Colors for the logo were considered.
****************************************** July 18, 2009
Long before The Life Center and Turning Point Church of The Nazarene knew about each other, there was an article in Hernando Today By Tony Holt. Excerpts follow. "Here, we have a core group of people who are passionate about helping people," Heidler said Saturday over the loud sounds of a hammer pounding against plywood. "We are able to plan it from the beginning." Technically, the volunteers are not starting from scratch. A house was built five years ago next to Turning Point Nazarene on Ingram Street in Brooksville. The builders never finished. The drywall was exposed. The plumbing and electrical wiring were installed, but not running. The wood rotted and the center of the house appeared as if it would collapse at any moment. The only stable section was the roof. "We've still got a ways to go on it," Heidler said. The house, once finished, will be used as a transitional residence for those homeless or semi-homeless families in the community, church members said. It will have three bedrooms, a living room and a kitchen. A washer and dryer will be located in the front porch. Heidler took a deep breath before he mentioned the deadline. "We're running a little slow, but we're hoping for October." Joe Musser, who is in his early 30s, has been at the church since he was barely able to walk. He has one of the longest memberships at the church, but ironically he remains one of the youngest at Turning Point. He has done a lot of the renovations alongside Heidler. "October of 2009?" he asked the pastor with a deliberate, puzzled look. "Yes, this October," answered Heidler. There are less than 60 members at Turning Point and most of them are seniors. Heidler is actively recruiting more for his congregation and he is hoping to lure more families and young adults. "We have some ladies at this church and if they were 20 years younger, they would be here swinging a hammer," the pastor said. To help with the renovations, congregation members at other local Protestant churches have offered assistance. Heidler refuses to let religious feuds fester among those Christians who volunteer. If he sees them during the week and not on days of worship, he doesn't mind. "If someone wants to help us and then go back to their churches on Sundays, that's fine with me," he said. There is more to Turning Point than a small church and a future transitional home. On the premises is a new computer lab. Those who are out of work and who need to search for jobs can use one of the dozen or so computers with Internet access, Heidler said. Turning Point Nazarene, which is not its original name, was started more than 50 years ago by the late Asa Groves, who held services under his carport. It never grew substantially, but it did enough so that an actual church could be built less than 100 yards from U.S. 41. Dave Herbertson is a member at Turning Point. He has attended several Nazarene churches throughout his life – some large, some small. He said he was particularly inspired with the one in Brooksville. He was one of the volunteers working on the house Saturday morning. "We don't have much money," Herbertson said. "We're not all that big, but I know good things are going to happen for us. Something's definitely happening." ************************** Nov. 2008 Several activities discussed, but not carried out including a celebrity dinner and short film. Logo is still under consideration. ****************************************** August 2008
New vision and mission statements accepted by the TLC board.
****************************************** July 2008
Teresa Glover was installed as a board member. Kids Central advised TLC it did not need a new residential group home.
****************************************** May 2008
Bank balance is now $1,466. All board members read and signed the required Conflict of Interest policy.  
Barbara Lemoine met with Pastor Frank Prestigiacomo of Grace World Outreach Church to made an effort to connect TLC with a man who had land to donate. He gave TLC his approval to discuss TLC with church attendees.
****************************************** Jan. 2008 The board is still considering working with DCF to provide homes for foster children.
****************************************** November 2007
Bank balance is now $884. TLC now has a CH # which must appear on all written material for fund raising. TLC has its first vehicle donation. We are still looking into ways to obtain real-estate. Volunteers Chet Steele and Chantelle Kelly will begin working on a logo.
****************************************** August 2007 TLC participated in the Macy's fund raiser and made $55.
****************************************** April 2007
Linda Sacca and Barbara Lemoine met and successfully completed all the necessary filings including an IRS 990EZ.
****************************************** March 2007 All financial records were inadvertently thrown out. Linda Sacca will attempt to recreate records. Carolyn Timmons organized a second successful fund raising pageant for TLC. Gloria West-Lawson with Fostering Hope Florida has offered to help TLC when possible.
****************************************** Oct. 2006
501(c)3 Arrived. TLC is effectively a recognized nonprofit retroactive to 2/14/2002. Still chasing shadows and running down blind allies in an attempt to find a home base/receive grant money. The Life Center Vehicle Donations program started.
******************************************July 2006
Pastor Sheldon Wood's whereabouts remain unknown. It was decided to drop him from the board.
******************************************Feb. 2006
It is decided that Board members should have the option of being involved in the daily operations with accessibility to every aspect of the facility.
****************************************** August 2005
Volunteer Linda Sacca is now a member of the board and holds the position of treasurer. Linda states, " I will do my duty with sincere obligations, to see that The Life Center of Hernando will indeed become a reality. It is a much needed facility and with God's help we will succeed."
***************************************** July 2005
TLC has a document locator number for their 501(c)3.
****************************************** June 2005 The final entries to the 501(c)3 were made. There are currently 140 people on the e-mailing list. ****************************************** May 2005
  Barbara Lemoine and Chantelle Kelly begin the process of reapplying for the 501(c)3.
****************************************** March 2005
No record of our original 501(c)3 filing can be found. That together with other incidences, led the board to believe we should distance ourselves from a former board member. We supplied the IRS with a letter of explanation and were cleared of all wrong doings. We have now identified and eliminated the problem.
******************************* April 2004
Dr. Ballard resigned from the Board. Ken Lendt resigned as treasurer. Chantelle Kelly and Barbara Lemoine began working on policies and procedures. TLC now has $404 in the checking account.
****************************************** Sept. 2003
Ned Mitenius of Periscope Consulting   graciously donated a large amount of his time to create a new website for TLC.
***************************************** July 2003
Members of the TLC board met with representatives from Volunteers of America. They were interested in lending a helping hand to TLC in terms of doing research to locate other similar agencies. There are now 107 people on our email newsletter list. 45 of those are committed prayer partners. Five local professionals contacted TLC to volunteer their services. Now we just need a facility!
****************************************** May 2003
We welcomed Pam Hargraves and Debby Fries as our first official prayer partners. Dr. Ballard was invited to speak to the leadership of the local Ministerial Association on May 27th. on behalf of TLC. Two new board members were added: Chantelle Kelly and Dr. Preston Wood. The entire board is determined to do God's will. TLC became an affiliate with The United Christian Fellowship of Social Services Church. TLC board visited Joshua House a residential facility for youth in Lutz, FL.
The search for land and funding continues to take us down many slippery slopes all of which ended in disappointment.
***************************************** April 2003
Still rushing to open each new door that presents itself. But behind each door is a false lead. The desire to "do something" is still very strong.
****************************************** March 2003
Carolyn Timmons arranged a fashion show in Brooksville  as a fund raiser.
****************************************** Feb. 2003
We are exploring many new avenues in an effort to "do something". In the end, each of these ideas will be discarded and we will return to the original vision of helping young single moms.
******************************************
Dec. 2002 Dr. Ballard began offering Biblical counseling services along with a lay counseling course. Some of the money from that course will be donated to The Life Center.
***************************************** October 2002
We are walking by faith. Nothing we can see yet. 11Samuel 7:27 says, "I will build thee a house." This is the promise we are holding onto. We are determined to be fiscally accountable with Ken Lendt's help. We are fine tuning the Mission and Vision statements. We set up our first website with a donation button.
****************************************** September 2002
We finally have our 501(c)3 papers ready to file and the money to pay filing fees. We had over 15 new responses from a program called Volunteermatch. That is a program that matches people from all over to volunteer opportunities. TLC had requested help raising funds. Each volunteer was given the opportunity to help, but none did. Carolyn Timmons did a TV profile in Crystal River for a local Christian network. In it she asked for funds for The Life Center.
***************************************** May 2002 Dr. Kevin Ballard applied for and was awarded a $250 start-up grant from the O'Brien Enrichment Foundation on behalf of The Life Center. There were now 32 interested people on our email newsletter list. Ken Lendh and Barbara Lemoine met with a member of SCORE to develop a business plan. Barbara's explanation that the financial plan was based almost entirely on faith was not well received. *
***************************************** April 2002 Ken Lendh from Northcliffe Baptist Church donated a computer. He then volunteered to help set up TL's accounting system. We began looking for a location where we could fulfill the vision God had given us. We printed our first flyer.
****************************************** March 2002 The Life Center held its first fund raiser at Golden Corral in Brooksville. The funds raised ($136) were enough to cover the cost of applying for our non-profit 501(c)3 status. Carolyn Timmons was the speaker that evening and she spoke with deep conviction about how we must help today's youth. Pastor David Garcia spoke on the youth of today. TLC now has EIN number and Incorporation papers. There was an article in Scene Magazine about The Life Center.
******************************************* Feb. 2002 Second board meeting of TLC. Roberta Cummings resigned for personal reasons. TLC opened its first bank account.
******************************************* Jan . 2002
Dr. Kevin Ballard, Carolyn Timmons, Roberta Cummings and Barbara Lemoine agreed to start a non-profit faith based agency in Hernando County with the stated purpose being to minister to the community in need, especially youth. The first officers were elected. The first order of business was to visit Green Isle a residential facility in Clermont, FL.
******************************************* October 2001
Carolyn Timmons and Barbara Lemoine  visited the teen parenting class at Hernando High to determine the special needs, wants and desires of young moms. The students cited have a telephone and a homey atmosphere as being very important to them. They stressed the importance of having the sense of a family and stated they would be willing to share a bedroom with another mom, but not a bathroom. They asked questions about the policies regarding boyfriends and going out.
******************************************* Fall of 2001
The first person to hear about this new vision was Carolyn Timmons who responded with great enthusiasm. In this way The Life Center was born, altho it didn't yet have a name.
******************************************* Summer and Fall of 2001
Roberta Cummings and Barbara Lemoine were volunteering at Baby Love in Spring Hill, FL. Baby Love was a pregnancy crisis center. Moms who had received help durning their pregnancy years before were returning with their grown daughters who were then pregnant. This was a disturbing pattern. They prayerfully considered the best approach to ending this sort of cycle. Their conclusion was to reach out to a mom at the time her baby was born and provide a comprehensive program for both her and her child that would be life changing. Thus began the TLC story. *******************************************